Solving CMP Polishing Challenges
with The next generation of CMP Pad Conditioners
Recorded Webinar
In this webinar, Doruk Yener Ph.D., R&D manager, shares the challenges with CMP pad conditioning and how a tailored CMP pad conditioner platform can solve these challenges and meet customer requirements.
Doruk Yener will also discuss:
Application testing capabilities
Critical performance criteria
Case study


About the presenter: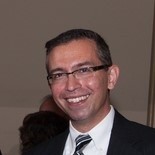 Doruk Yener Ph.D. is the R&D manager for Planargem CMP Pad Conditioners at Entegris. Doruk has been working on synthesis and applications of abrasive materials, and surface finishing for the past
19 years.
In his current role, Doruk and his team identify and qualify new pad conditioner designs for semiconductor, optical, and hard disc drive industries. Doruk holds a PhD. degree in materials science and engineering from The Pennsylvania State University in State College.