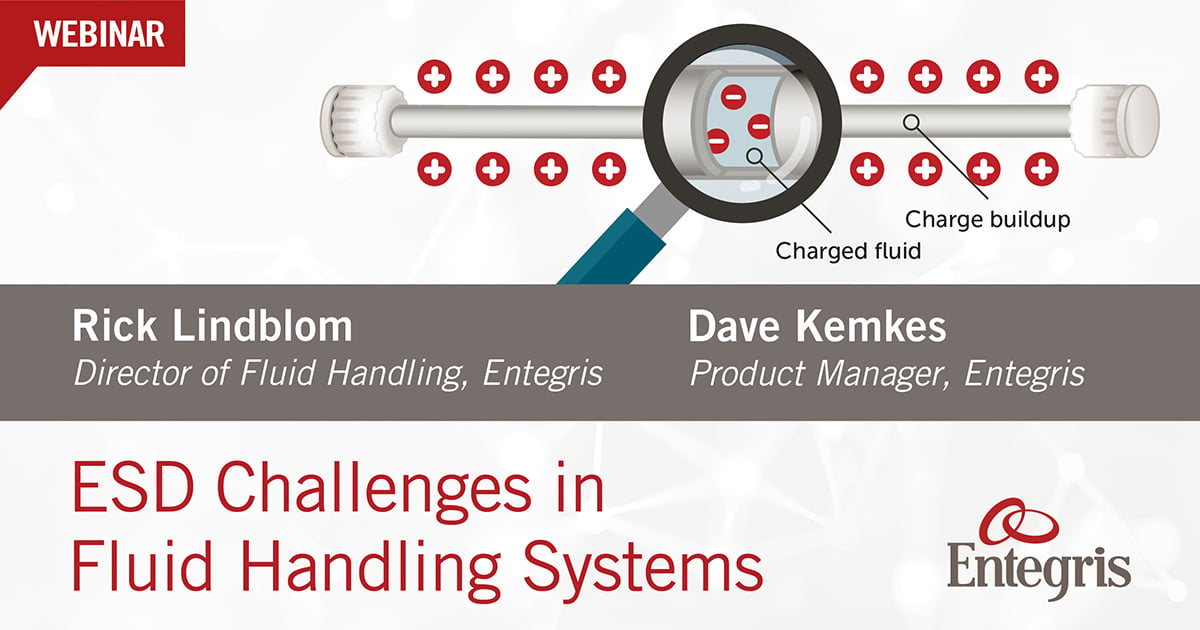 ESD Challenges in Fluid Handling Systems: A Shock to the System

Why is the industry moving away from stainless steel to PFA materials for transporting process fluids?
What about electrostatic discharge (ESD)?
In this webinar, you will learn:
What impact this move is having on handling the high-purity materials required in advanced node technology
What the safety risks are of static charge generation, accumulation, and harmful electrostatic discharge (ESD)
How to defend against dangerous ESD in fluid handling systems
Join Dave Kemkes, Senior Product Marketing Manager, and Rick Lindblom, Director of Product Marketing Fluid Handling, as they discuss these topics and introduce Entegris' new ESD solutions that are making a difference in preventing electrostatic charge buildup while moving process fluids through PFA fluid handling systems.
Presenters:
Rick Lindblom, Director Product Marketing, AMH Division
Rick Lindblom began his career at Entegris in 1995 as a product manager and entered his current role as the Director of Product Marketing in 2009. He is primarily responsible for fittings, valves, tubing, manifolds, and various derivative products for the Fluid Handling business at Entegris. In this position he leads product marketing activities that encompasses new product development roadmaps, new product launches, sales tool development, product positioning, product website updates, customer presentations, customer visits, customer training, and product life cycle management. Over the last 24 years, Rick has held various leadership positions at Entegris in product and marketing management. Through these roles he has gained a wealth of experience in various facets of global business management and sales.
Dave Kemkes, Senior Product Marketing Manager, Fluid Handling, AMH Division
Dave Kemkes joined Entegris in 1987 in product manufacturing and entered his current role as Product Marketing Manager in 2012. His primary responsibilities include P&L, product support, strategic growth initiatives, and product marketing and development. Over the last 30+ years, Dave has held various positions at Entegris including applications engineer, market development manager, and product marketing manager in both the semiconductor and life sciences markets. Through these roles he has established himself as a subject matter expert on high-purity fluid handling of critical process fluids.